The most outstanding landmarks
The origins of the company
+
First Electric Arc Furnace
+
Internationalization of the Group
+
Leading the transformation of steel
+
History of CELSA Group™
CELSA originated in 1967 in Castellbisbal (Barcelona) with the start-up of its first rolling mill. Ten years later, and as a turning point, the company inaugurated the first electric arc furnace, that eventually would allow for the company to become more competitive.
In the late 1980s and during the 1990s, CELSA began to establish itself as a national benchmark with the acquisitions of THC, Siderúrgica Besós, GSW and Nervacero. And not only that, it would become one of the most diversified groups with the integration of two important Spanish wire-drawing companies: Tycsa PSC and Trefilerías Moreda in 1991 and Riviere in 1999.
Another turning point for the company was in 2003 with its first step towards internationalization. Throughout that year, CELSA Group™ acquired CELSA Steel UK in the United Kingdom and CELSA Huta Ostrowiec in Poland.
The success of both acquisitions motivated the continuation of the globalization process and the following ones took place in 2006 with CELSA Nordic or in 2007 with CELSA France and CELSA Atlantic.
In 2008, CELSA Group™ expanded its presence in the United Kingdom and Ireland, incorporating BRC, ROM Group and Express Reinforcements.
Following the line of expansion and diversification, in 2014 CELSA Group™ acquired Tammet Oy Mesh in Finland, an operation that allowed the company to offer a more flexible service and a more complete range of products in the region.
In its determined commitment to circular economy and sustainable development CELSA invested in two new recycling centers in the Basque Country and Valencia. These new additions allowed the Group to become one of the largest ferrous scrap reciclers in Spain with 13 strategically distributed centers. In addition, the Group launched Global Bright Bars, a new division dedicated exclusively to the production of high-quality calibrated bars for the automotive industry.
Another point of inflection for the Group is the creation of CELSA Steel Services Spain in 2014, where customers are offered the most advanced optimizations and solutions for the reinforcement of concrete combining design proposals, product handling, services and digital support.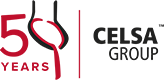 CELSA Group™ turns 50
All these years of perseverance and enthusiasm have made CELSA Group™ one of the most important steel groups in Europe. With more than 9.657 people in its companies, around 120 work centers spread all over the world, more than 10 languages spoken, 8 million tons of scrap recycled per year, the Group has become a benchmark for steel.
In these 50 years of history, CELSA Group™ has become an ideal place where innovation and training are fundamental and the passion for steel is shared by all.