In CELSA Group ™ we take care of our people

People are the driving force of our company

In CELSA Group ™ we take
care of our people

People are
the driving force
of our company
Work with us
At CELSA Group™ we have different programs adapted and aimed at the development of internal and external talent. We want you to grow with us, to learn from our experience and in return we will learn from your perspective of the world.
The objective of the programs is to provide candidates with the best preparation with a complete vision of the organization and with the maximum possible experience in each of the Group's functional areas.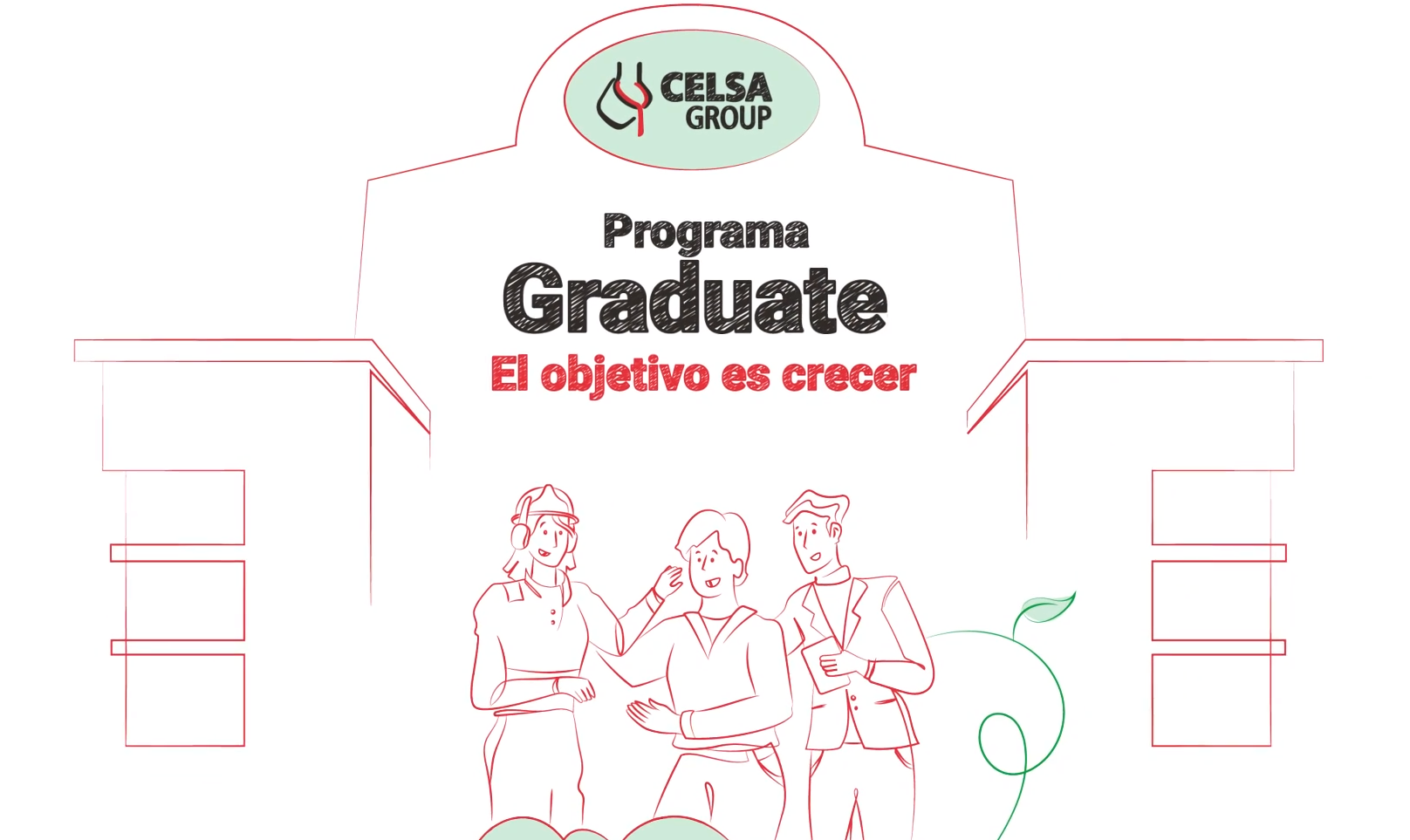 Graduate Program, the objective is to grow
Play video
<center>At CELSA Group™ we offer internships for students in different companies throughout the world.</center>
<center>The Graduate Program is made up of a 5-year program for recent graduates where you can train in different areas of the company.</center>
<center>SThis is a rotational program from 3 to 5 years for professionals coming from Master's or MBA's studies.</center>
<center>At CELSA Group™ we are looking for professionals with a developed career path and previous experiences.</center>

People Development Integrated System, a tool designed to manage people's talent.
To offer our team the best preparation, the Group has implemented the Integrated Professional Development System (PDIS), a tool designed to manage people's talent. Based on it, the qualities are identified and the career that best suits your profile is planned. This system has been developed in all business units with the aim of:
SECURE
the satisfaction of our professionals and provide value for the retention of talent.
BUILD
the attitudes, skills and knowledge necessary to contribute and contribute to the CELSA Group™ project.
ATTRACT
motivate and develop the best and brightest talent.
ARRANGE
of a common, easy and coherent tool that catalyzes the company's strategy through people.
Performance management
READ MORE
<center>Objectives, areas of responsibility, competencies and values are evaluated. Improvement plans are established aimed at progress and obtaining the best results as professionals and as an organization.</center>
Career management
READ MORE
<center>Process by which people and professionals know their strengths, their areas of improvement and their possibilities for future development as future managers and managers.</center>
Talent management & Succession plans
READ MORE
<center>Capacities are detected and developed, personal expectations, future leaders and needs of the organization are combined to guarantee a promising future and generational renewal within the Group.</center>
Goal management
READ MORE
<center>Process of assigning individual organization objectives through cascading deployment. The objectives come from the strategic reflection, the budget and the annual evaluation of values.</center>
Why CELSA Group?
Meet our best value bet: people.
At CELSA Group™ we take care of all the people who are part of our family and we promote their growth, both professional and personal. We want you to live the experience through our internal promotion programs, vacancies, offers and advantages of being part of Celsa.
KNOW OUR JOB OFFERS
Access our portal to see the latest published vacancies that we have available in the group.